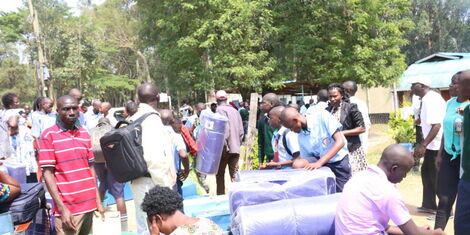 Despite the rise in cases of students being unable to raise the necessary school fees to facilitate admission to secondary school, one particular incident has taken a new twist after a donation made to enroll Idriss Saidi Lutta was turned down. 
Friends of the needy student's family rejected a contribution made by Atheists Society of Kenya President Harrison Mumia.
Mumia, through a press release, had offered to help Idriss who hails from Mogotio Sub-county, Baringo County. He reportedly raised over Ksh 38,000 towards his education. Lutta scored 401 marks in the 2019 KCPE exams, earning a spot to join Maranda High School, Kisumu.
His mother had initially accepted the offer before members of the community rejected it. 
"I am grateful someone has offered to help. I was worried my son would have to discontinue his studies because I could not afford his fees, but now I am grateful to God," his mother appreciated Mumia's offer.
Daily Nation reported that area residents were irked after learning that Mumia was part of a WhatsApp group formed to consolidate support for Lutta.
They ended up ejecting him from the group, which had raised over Ksh 52,000. They promised to refund Mumia, claiming that he had ill intentions and was added to their group without consultation.
"We formed a WhatsApp group with the sole purpose of assisting this bright, needy pupil who had not reported to school due to lack of fees. We managed to raise more than Ksh 52, 000 which we sent to the family. We were later surprised to learn through the media that an organisation (Atheists Society of Kenya) had also assisted the boy.
"Funny enough, we later came to know that Mumia, a president to the organisation had been in the WhatsApp group and we had not been informed earlier who he was. He was also not contributing to any of our conversations only to go and form a parallel contribution to the pupil. If he was of good intentions why did he not contribute to the group we were together yet he was a member?" Noah Chepkech, a resident, wondered.
Chepkech, who was a member of the WhatsApp group and is also a parliamentary aspirant in the region, further argued that Mumia sent some money to Maranda High School, and to a teacher at the school.
He argued that the atheist president may have wanted to recruit the child to join his organisation.
"We're not ready to hand over our son to an evil person. We also don't know the intentions of the organisation. Maybe they want to brainwash or recruit him into their beliefs and this may have a big impact on his religious beliefs. We fear these people had a vested interest," he affirmed.
Facebook Comments