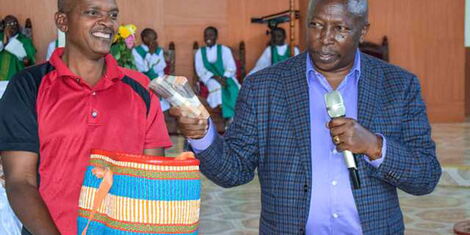 Nominated Member of Parliament Maina Kamanda on Friday, January 31 put former Kiambu Governor Ferdinand Waititu on blast as he spoke at the swearing-in ceremony of new Kiambu Governor James Nyoro.
Kamanda tore into the former county boss, stating he had warned Kiambu residents not to elect Waititu in 2017 just as he warned Nairobi residents not to elect embattled Governor Mike Sonko.
Kamanda further claimed that during the campaign period, Waititu approached him asking for a Ksh1 million loan. 
The MP lamented, however, that after winning the election, Waititu allegedly embarked on amassing several high-end properties acquired using proceeds of corruption.
"During the campaigns, that man used to come to me to borrow Ksh1 million, promising he will return it.
"Now he has bought five houses in Nairobi, including one in Runda. He lacks respect.
"Even stealing needs intelligence. This man did not have even a little intelligence," he tore into Waititu. 
Kamanda further thanked Kiambu County Assembly MCAs for initiating impeachment proceedings against Waititu.
He disclosed that he had been to several strategy meetings with the MCAs. 
"I was on the front-line with Nyoro (Kiambu governor) and I want to thank him because he stood firm.
"I want to thank the MCAs of Kiambu. You are great, you are like Maina Kamanda. I've met you, especially the group of ten people. We've drunk a lot of tea with that group while planning," Kamanda recalled.
In addition, the lawmaker thanked the Senate for voting to impeach Waititu on Wednesday, January 29.
In a veiled reference to Deputy President William Ruto, Kamanda stated that the eleven senators who voted against Waititu's impeachment were following their leader.
"I want to thank the senators who helped us.
"The senators who voted for the other side, you read their names and you know they were following their leader. I won't say his name but he is known by everyone," Kamanda maintained.
Watch a video of part of Kamanda's speech below courtesy of Citizen TV:
Facebook Comments