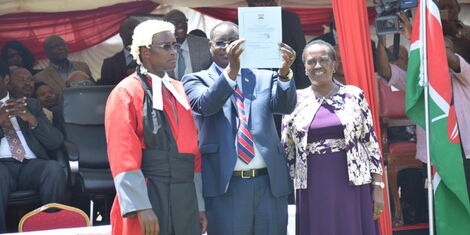 Kiambu Governor James Nyoro on Friday, January 31, addressed fears that he would discriminate against his predecessor's allies.
He gave a commitment to working with all MCAs despite their political inclinations.
Governor Nyoro assured that none of them would suffer for their personal and political persuasions.
"There will be no victimization, and no one should fear because this is a new era. You did not choose where you are.
"I assure the people of Kiambu of my total commitment towards this course. We must redeem our reputation and I will work closely in a cordial manner with the members of the county assembly to help our people actualize timely development and work within the law," remarked Nyoro.
The governor also made an assurance to workers who were hired during Waititu's tenure that they would lose their jobs. 
He also promised to enforce the absorption of workers engaged on contracts as soon as the Kiambu County Public Service Board was established.
"I want to reiterate that there are several people who have been working in this county since November 2019 without a valid contract.
"As soon as we establish a public service board, we will ensure that those who will continue to work will be paid accordingly but according to the law," remarked Nyoro.
The governor further called for the support of all Kiambu residents and leaders in the push for the realisation of a great county.
"I count on all of you to support us deliver better services in an accountable, participatory, inclusive and people targeted manner," he told the crowd. 
During the event, hundreds of Nyoro's supporters and leaders gathered at the county headquarters in Kiambu Town, where he took the oath of office. 
The oath was administered by High Court Judge John Onyiengo who stated that the process took place in accordance with the constitution.
On Thursday, January 30, the Judiciary announced the postponement of the swearing-in ceremony citing unavoidable circumstances.
Governor Waititu was impeached by the Senate on Wednesday, January 29, on grounds of corruption and loss of public funds.
Facebook Comments