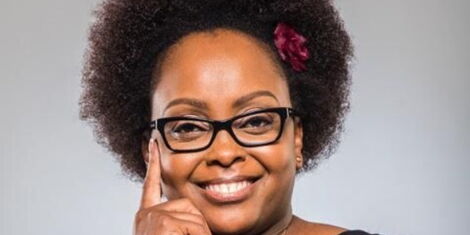 In the 1990s, Kenyans revered one show that always kept them glued to the TV. Omo-Pick-a-Box was a program many eagerly waited for every Sunday night on KBC.
Its popularity soared because it was a unique show where participants had to choose between cash prizes and contents of the boxes which ranged from keys to posh cars to baby diapers.
Lorna Irungu hosted the show as well as the late Regina Mutoko, sister to celebrated media personality Caroline Mutoko. 
Irungu went on to host Club Kiboko for five years between 1994 and 1999, while also producing magazine show Maisha and a youth dialogue dubbed Niaje.
She later hosted State of The Nation at then-Nation FM. The show revolved around political, social and economic issues affecting the country.
However, in 2007, her life took a turn for the worst when she was diagnosed with kidney failure. It all began with an infection which evolved into tuberculosis of the spine which saw her admitted at Nairobi Hospital. 
"I no longer had the will to fight. I was scarred physically and mentally. Frankly, I'd had enough of life and all it had to offer," Iriungu stated in a past interview with Daily Nation. 
Irungu disclosed that in 1998, she had undergone her first kidney transplant at Nairobi Hospital after her father donated the organ to her. In 2000, the kidney got infected and her sister offered her another.
The 2007 kidney failure, her third, saw her brother offer her his kidney. However, the procedure was expensive locally, forcing her to send emails of her medical history to countries abroad. She was lucky when doctors at Fortis Hospital in New Delhi, India, responded to her calls, leading to a successful transplant in 2008.
International media, CNN, covered her story dubbed Kidney Odyssey Takes Kenyan to India.
Irungu has been running her own Company, Siwa Communications, for over 13 years. Siwa is a firm that provides communication support to clients with social impact missions across private, public and social sectors 
In 2016, she was chosen as one of the Eisenhower Fellows. Eisenhower is a private, non-profit, non-partisan organization. In February 2018, she was appointed a managing director at Gina Din Group, a public relations and communications firm.
Irungu is married to Edwin Macharia, and together they have a daughter. Macharia is a global managing partner at Dalberg Advisors – a financial consulting firm.
He was named one of the '10 Most Powerful Men in Africa in 2015', and was also recognised by the World Economic Forum as a Young Global Leader. 
Video: YouTube
Facebook Comments