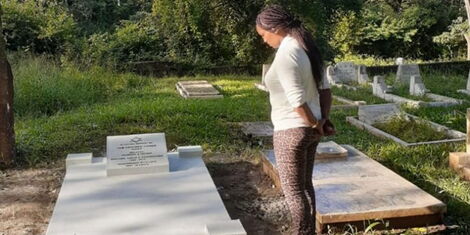 Sarah Wairimu, wife to the late Tob Cohen, on Thursday afternoon, January 30, visited her husband's grave at the Jewish Cemetery located along Wangari Maathai Road.
In photos seen by Kenyans.co.ke, Wairimu was spotted beside her the dutch tycoon's graveside.
"I have today laid a tombstone at the grave of my late husband, Tob Chichou Cohen. At a suitable time, I will hold a private ceremony to commemorate the laying of the tombstone as appropriate," she stated.
In the Jewish culture, it is common for families to have a ceremony around the viewing of the tombstone at the cemetery for the first time.
The ceremony, which is called 'tombstone unveiling' takes place within a year of the death of the person.
Wairimu's 75-year-old husband was interred in September 2019 after he was murdered in cold blood at their matrimonial Kitisuru home.
Wairimu, who is a prime suspect in the case, was released on bail on October 11, 2019, by Justice Stella Mutuku after spending 44 days in detention.
Mutuku ruled that the prosecution failed to prove that Sarah, who was arrested on August 28, was a flight risk.
According to autopsy results released on Friday, October 3, the Dutch tycoon died after sustaining a blow inflicted by a blunt object on the right side of his head.
Detectives drawn from the DCI discovered Tob Cohen's body in a septic tank at his Kitisuru home close to two months after the Dutch billionaire went missing. 
Speaking to the press on September 13, 2019, DCI boss George Kinoti termed Cohen's murder as gruesome.
"They took their time to kill innocent Cohen. He was bound, hands, legs and the neck, before he was murdered and then they hid him in an underground water tank," he emotionally explained.
Facebook Comments