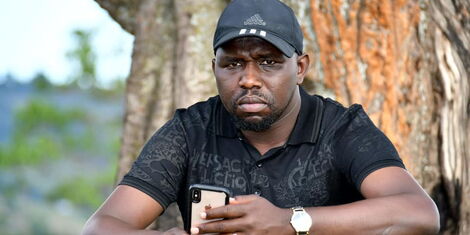 Despite his rise in popularity after joining politics as Elgeyo Marakwet Senator, Onesimus Kipchumba Murkomen is a man with an interesting history, running different errands while at the University to fulfil his needs.
In an interview on Kiss FM on Thursday, January 30, Murkomen told of how he once served as a pastor in Ngara, Nairobi county where he ventured into speaking the word of God to members of the specific church.
"I was brought up as a staunch Christian and when the role of preaching came my way, I took it wholeheartedly," remarked Murkomen.
However, this did not last for long after his deep accent pushed many members of the congregation away leading to him making a decision to abandon his dream.
"I was a mini pastor. At first, many people would come, and because of my accent, people left, which meant we couldn't collect much. I hadn't learned how to speak in tongues," added the Senator.
Through his clergy role, the senator indicated that he was able to get some earnings that enabled him to pay for part of his school fees and also cater for his basic needs.
However, the senator stated that he did his best to maintain an ethical life impacting members with the true gospel.
"I would clearly say that I gave people the true word of God. I cannot regret having served in the altar at all.
"I was a real preacher, and I still believe in it. I was not in the church just for money. There was content, but I also needed the money to pay for university," remarked the senator.
Murkomen further revealed that during his studies at the University of Nairobi, he also served as the chairman in the Christian Union leading other students in many activities that helped build their faith.
According to a report by the Standard, the senator got attracted to spirituality a long time ago where he always admired to grow in faith like other members of his church at his local church.
"When I was in high school Pastors used to come, and people are speaking in tongues, so because I was not, I decided that I need to start speaking in Marakwet to confuse people because the pastor will never understand. I did it because I did not want to be left out," remarked Murkomen.
In August 2019, Murkomen posted photos of his father Johanna Murkomen Kanda who was ordained as a reverend together with 16 other.
Kipchumba Murkomen who is a close ally of deputy president William Ruto joined politics in 2013 when he won the senatorial position at Elgeyo Marakwet county on a URP ticket where he won against long time politicians like Nicholas Biwott.
Murkomen later retained his position in 2017 on a Jubilee Party ticket flooring the former Inspector General of Police David Kimaiyo.
The senator also serves as the leader of the majority at the senate.
Facebook Comments